If you are needing documents printed, please email them to us, and we will print your items. Click HERE to send us your document(s).
Hours of Operation:
Monday:        11:00 am – 6:00 pm
Tuesday:       11:00 am – 6:00 pm
Wednesday: 11:00 am – 4:00 pm
Thursday:     11:00 am – 4:00 pm
Friday:           11:00 am – 4:00 pm
New Years                                        Labor Day
Memorial Day                                  Thanksgiving
Independence Day                          Christmas
*Additional days for training and around holidays at Director's discretion.
Contact Information:
829 West Main Street
Council Grove, KS. 66846
Phone: 620-767-5716
Email: cglib@tctelco.net
Fax: 620-767-7312
Staff's Recommended Reads
Books
Large Print Books
Audio Books
DVDs
Blu-Rays
Magazines
Newspapers
NCKLS Rotating Books
Puzzles
Cake Pans
Microfilm Machine
Curbside Checkout
Copying
Faxing
Scanning
Laminating
Notary
InterLibrary Loan
Basic Computer Help
Talking Books
Obituary Research


Xbox ONE
   * Two wireless controllers
   * Two wired controllers
Wii
   * Four controllers
   * Four motion sensors
   * Four MarioKart
      Wheels
   * Four nunchucks

iPads and Tablets
Books & Audio Books
3 weeks
Magazines & Movies
1 week
*No renewals
Call or Facebook us to renew your items!
620-767-5716
Books & Audio Books
          10¢ per day

DVDs & Blu-Rays
          $1.00 per day

*Fines max out at $3.00 per item.
*Patrons will be charged the replacement price of any lost or damaged item(s).
President – Jason Booker
Secretary – Cris Wilson
Trustee – Candy Boardman
Trustee – Adam Reichart
Trustee – MaryAnn Wendel
Trustee – Amber Wangerin
President – Gail Daugherty

 Individual/Family Membership – $10.00
Contributing Membership – $20.00
Lifetime Membership – $100.00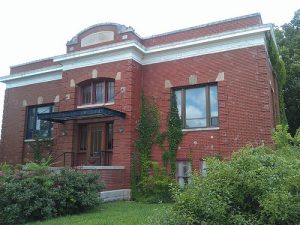 Morris County Historical Society
303 W Main Street
Council Grove, KS. 66846
620-767-7388
mocoarchives@yahoo.com
The Morris County Historical Society is located in the basement of the old Carnegie Library. The Historical Society is open one day a week on Wednesdays from 1:00 pm – 4:00 pm.