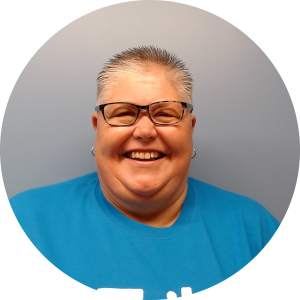 As Library Director, Shannon wears several hats. You can find her working on daily operation, talking Readers' Advisory with patrons, ordering new books, or spraying weeds in the parking lot on any given day. She spends her time off with her family, her dogs, and reading as much as time allows.
As our InterLibrary Loan clerk, Aimee is always finding obscure books. During high school, she served as a library aid for work-study and when a job opened up at CGPL, she applied immediately. Aimee's favorite book is "Little House on the Prairie", and she loved playing the 90's game Oregon Trail.
Kim Gant is one of the library's fantastic clerks who enjoys working with kids. She loves books, video games, anything Mario related, movies, and helping young readers find books. When she's not at the library, she is usually hanging out with her two cats – Peet and Lilbitz – and hanging out with husband.
                      Previous Directors
Kate Behring:                1918-1919
Winifred Nocholson:    1919-1930
Kate Behring:                1930-1936
Myrtle Loomis:              1936-1957
Genevieve Allen:           1957
Melba Clary:                  1957-1960
Gladys Bolton:               1960-1964
Frances Darrington:      1965
Mary McAtee:                1965-1966
Virginia Smith:               1967-1968
Sharon Stone:                1968-1988
Anne Teghtmeyer:         1988-2009
Lee Dobratz:                   2009-2014
Shannon Reid-Wheat:    2014-Present